Quality Microcaps Can Weather the Current Storm
This year's volatile equity markets have punished microcap stocks. The group, as measured by the Russell Microcap Index, has lost a quarter of its value over the first six months of 2022, falling more than the broad-market Russell 3000 Index, which dropped by about a fifth.1 The Russell Microcap index is comprised of the smallest stocks, with market capitalizations ranging from approximately $30 million to just over $1 billion.2 Despite recent declines, we expect quality microcap stocks with strong balance sheets and seasoned management teams will likely outperform over the longer term, and believe there may be benefits to investing now.
Chart 1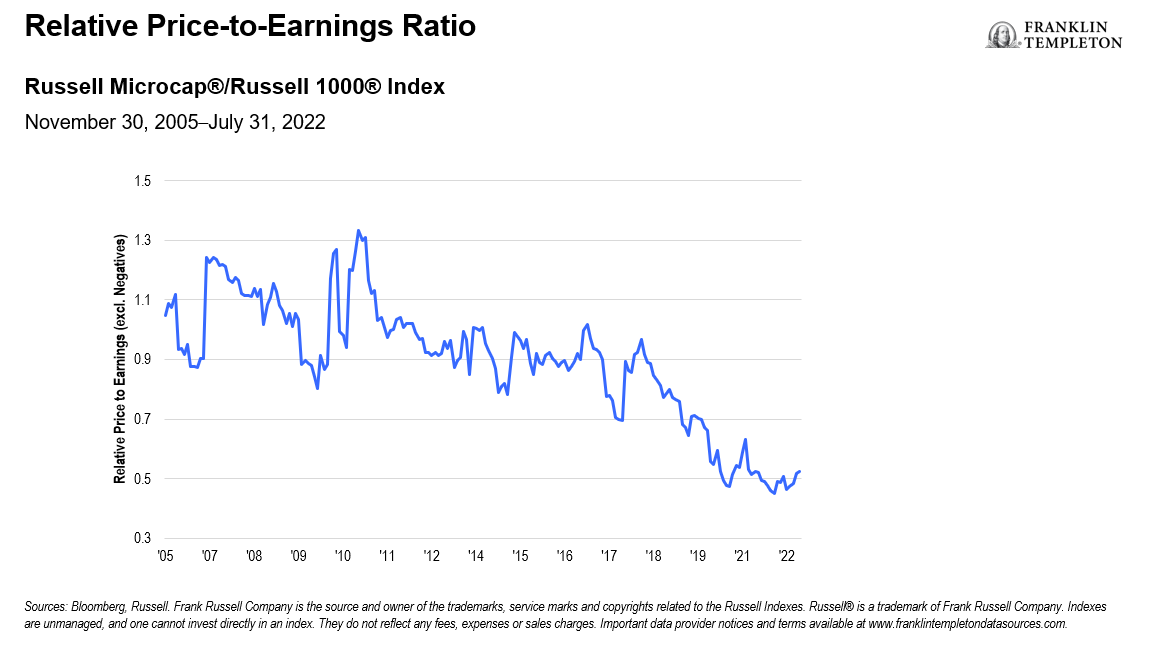 Risk and resilience
Microcap stock valuations have fallen significantly, both on an absolute basis and when compared to their large-cap counterparts, as seen in Chart 1. Moreover, microcap stock price-earnings (P/E) multiples have reached levels not seen since the global financial crisis. As of June 2022, the P/E on the Russell Microcap Index stood at 10.5 times, according to data from Russell. However, we believe the long-term outlook for profitable microcap companies remains bright as earnings continue to grow quickly, suggesting that valuation multiples might revert to the mean in the future.
Furthermore, microcap companies primarily operate US-centric businesses and can offer a degree of protection against heightened international and geopolitical risks that large-cap companies are typically more exposed to. This US centrism could further close the valuation gap between microcap and large-cap stocks over time.