On Post-Pandemic Growth and Inflation, Equity Prospects and Income-Seeking Strategies
Ed Perks, CIO of Franklin Templeton Investment Solutions, outlines what factors should likely support economic growth, how he views inflation, why US equities remain attractive, and where income-seeking investors should look for potential opportunities.
Amid the reopening of economies and recovery from the pandemic, we see some robust shifts in economic activity. The rebound in consumer participation is an important part of the growth story we've seen in 2021, with accommodative monetary and fiscal policies also playing an important role. Going forward, we see these forces continuing to drive growth—albeit with some moderation—as consumers are in a strong place to spend and policy accommodation seems likely to continue over the next 12 to 18 months.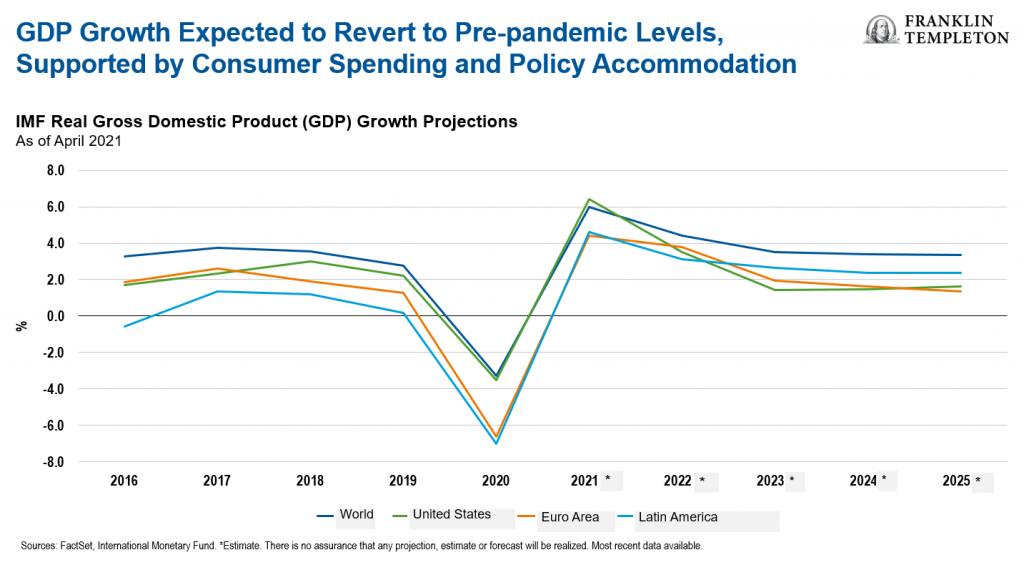 Consumer Strength and Inflation
As lockdowns ended, we saw a lot of pent-up consumer demand unleashed. Policy accommodation—government programs and monetary policy support—has helped consumers come through the pandemic in a fairly healthy position in terms of balance-sheet strength. Many have significant excess savings driving robust spending on a variety of goods and services. The labor market has also rebounded sharply. We continue to see real upside in terms of job growth and creation, as well as some nascent signs of wage gains, which are expected to be an important part of economic activity and growth as we move forward. The July US employment report reflected these dynamics, adding 943,000 non-farm payroll gains and a 0.4% month-over-month rise in hourly wages. While there are still some seven million jobs that are yet to return from pre-pandemic, we believe the recent trend in jobs recovery is likely to continue. While the Delta variant adds risks to the outlook, overall we see some healthy tailwinds for the US consumer.