High Yield in View: Automobiles and Semiconductors
COVID-19 caused ripple effects throughout many industries and sectors, including automobiles. An already-challenging lockdown environment that forced vehicle production shutdowns also saw shortages of parts—namely semiconductors—which continue to linger. Franklin Templeton Fixed Income Analyst Aleck Beach outlines the implications for investors.
As COVID-19 began to spread across the globe in early 2020, the global automotive industry endured crushing factory shutdowns. As it began to recover during the second half of 2020, a new challenge was taking shape in the form of a parts shortage that would soon ripple across the industry. The auto industry has long managed a complex supply chain of parts and components produced, shipped and delivered into assembly lines on a just-in-time basis. However, as auto factories went idle during government-mandated shelter in place orders, the shift to working and learning from home drove increased computing, networking and electronics needs.
What do cars, trucks, laptops and broadband networking all have in common? They all require semiconductors to function, and a shortage of these small but critical parts would soon begin disrupting auto production across the industry.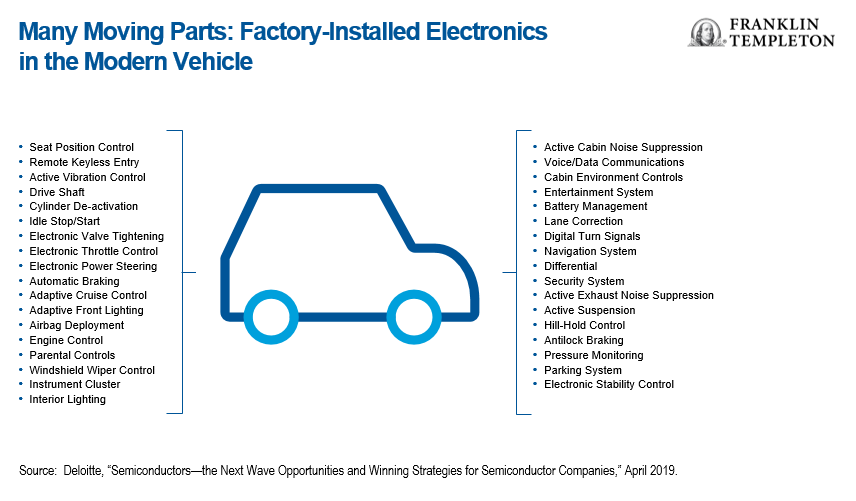 Semiconductors are used in a wide range of automotive applications such as airbags, instrument clusters, parking-assist cameras, engine and transmission functions, fuel pumps and windows. When semiconductor orders plummeted with factory shutdowns, steady demand from other industries redirected production capacity away from chips used in vehicles toward other end markets seeing stronger demand.
As auto factories eventually resumed production and vehicle sales rebounded faster than expected, tight semiconductor inventories and limited spare capacity have now resulted in a shortage of semiconductors for the global auto industry. As a vehicle rolls down the assembly line, the absence of just one part can halt production.